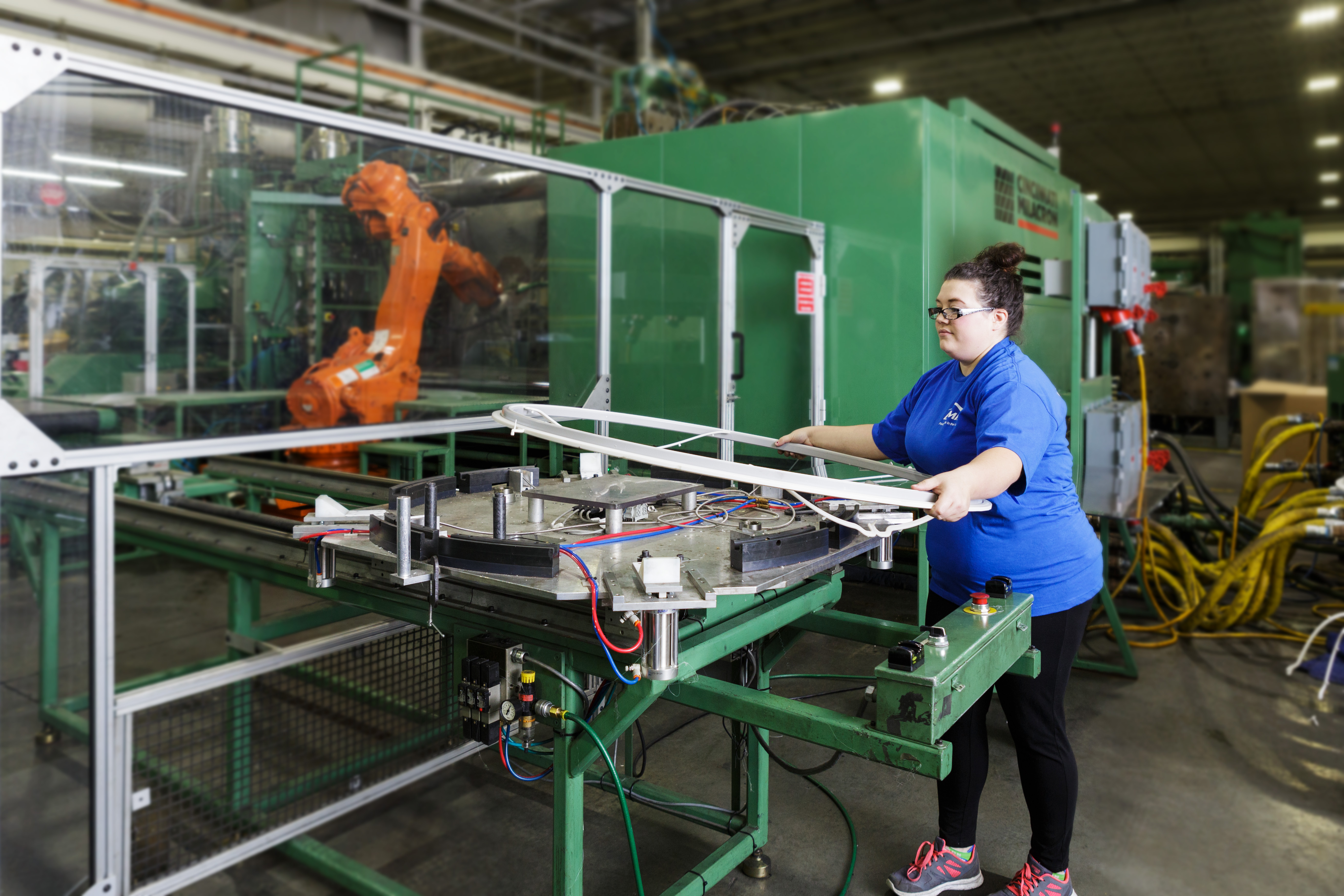 Bemis Manufacturing official talks 'structured innovation'
Bill Breger
Plastics News Staff
Oak Brook, Ill. — Bemis Manufacturing Co. has a long reputation of investment and trying new things, including running a 6,600-ton Milacron injection molding press doing coinjection. And that effort continues, Roy Spatz said at the IMTECH conference.
Spatz, director of innovation and technical development at the Sheboygan Falls, Wis.-based custom molder, gave a talk titled "Breaking the Rules" at IMTECH. He is a 17-year veteran of Bemis, moving from project engineer to market and business development engineer to his current title.
"If you don't break the rules, the rules are going to break you, right?" he said at IMTECH, organized in Oak Brook by the Society of Plastics Engineers' Injection Molding Division.
Spatz said it used to be when molders were making a part with a very large cross section, they often would mold it in two parts then bond or weld them together.
"Then came gas-assist and it gave everybody a lot of options to create large cross-sections," he said. "So the point here is, keep pushing the envelope. Keep looking for new creative ways to do things because if you don't, somebody else is going to and you're going to lose."
The late Peter Bemis was known for pushing technology forward, including adopting coinjection, six-axis robots and other innovations long before the general injection molding sector. He died of cancer in 2013. The following year, Bemis Manufacturing lost another technical expert when Gary Vande Berg, the vice president of engineering, died, also after battling cancer.
Spatz said Bemis leaders vowed not to change direction but continue to move ahead with new technologies.
"We decided we need a more standard approach so we don't lose focus on it," he said.
Bemis uses what Spatz called a "structured innovation process."
"Without having a focused effort, there's always the risk of identifying something, having a vision for something, but never completing it. Because, you know, as engineers, as quality managers, operations managers, everybody's got their primary focus, to do their jobs. So, trying to identify and develop those new technologies or those new visions, ideas, oftentimes fails," Spatz said.
The idea of "structured innovation" sounds counterintuitive. "How can you have innovation — thinking outside the box and brainstorming — but yet be structured?" he said. But really big companies do it; Spatz named Microsoft, 3M and Procter & Gamble.
The first step is to identify the new technology. "Then we have a structured, innovation funnel so that we can get those started and have it driven through that process," he said.
 Bemis has two steering committees: One that evaluates the technology from a technical viewpoint and the other is more business-focused, where senior management is looking at things like return on investment.
Spatz outlined some of the molder's technologies. One is two barrels on one injection molding machine.
"The machines that we're buying have two barrels, minimum. We have some with three barrels and more," Spatz said. "But just a basic two-barrel machine gives us so much more flexibility we can still do a single color and a single material, but we can also do single material, two colors. Or we can do two materials."
Two-barrels are used for coinjection molding as well, allowing the use of reprocessed material fully encapsulated inside virgin resin, or a filler for added stiffness. That lowers the cost and improves physical properties of the part, he said.
Presses with two barrels also allow Bemis to do two-shot overmolding.
"Being able to do this in one machine without having to have auxiliary barrel is important for us," Spatz said.
He said that Bemis also does sequential molding. For example, to make headlights for tractors, one barrel molds polycarbonate and another for ABS bezels — two different materials and two colors at the same time in a family mold. Instead of requiring a 1,000-ton press, the process allows the company to use a machine that is half of that tonnage, Spatz said.
Operators then put the headlights on the tractor grille, providing the customer with a subassembly.
Other technologies used by Bemis include gas-assisted molding, in-mold labeling, insert molding, rapid heating/cooling of the mold, methods to reduce molded-in stress.
Bemis likes to get involved with new products early on, giving advice on moldability and tooling.
Spatz urged IMTECH attendees to differentiate their companies.
"Give yourself a competitive advantage. It's going to help you and it's going to help your customers," he said. "You have to have a focused effort to find it but then also to develop it in full."
Download Full News CoveragePress Release